Do you ever fantasize about the ideal sales situation? Imagine for a moment that you are a sales rep selling office equipment. You take a break from work and walk into a Starbucks, order a latte, and strike up a conversation with a stranger who tells you that he works for a $1 billion company, is in charge of opening six new offices in your territory, and his biggest headache is finding an office-equipment supplier. The ideal sales situation happens when buyer and seller meet at the right moment at the intersection of an emerging problem and a ready solution. Such an ideal sales situation may never happen, but innovative technology is steadily moving sales in that direction.
The Tree of Discontent
Here is a map that shows some of the major challenges salespeople face when calling on new prospects. When it comes to the timing, calling too early is a waste of time, and calling too late is a wasted opportunity. Calling at the right time gives salespeople the best chance for advancing the sale. Shakespeare said it best: "There is a tide in the affairs of men, which taken at the flood, leads on to fortune. Omitted, all the voyage of their life is bound in shallows and in miseries."
Next in order of importance is the reason for the call. Salespeople dislike calling prospects without a compelling reason. They know that the odds are against them. They know that positive energy comes from positive ideas to share, positive subjects to discuss, and positive opportunities to share with their prospects.
There are a number of great technology solutions that can help salespeople improve the timing of their calls, as well as improve their chances of discussing a relevant topic with their prospects, which may lead to a good sales opportunity.
Sales Triggers
Brian Carroll, a noted expert in the field of lead generation, wrote in his
blog
:
"What's a trigger event? A trigger is a happening associated with a consequence so significant that it causes new behaviors, new ideas and new opportunities. One of my clients found companies with their key trigger events was 400% more likely to buy than companies without those trigger events."
Craig Elias, the creator of Trigger Event Selling™, writes, "There is A SILVER BULLET IN SALES, getting in front of the right person at EXACTLY the right time – after a decision maker has experienced a Trigger Event that makes them unhappy with what they have, but before they have started doing anything about it."
(www.shiftselling.com)
Innovative technology makes it a lot easier for salespeople to learn about trigger events. For example, if you are trying to sell HR services to a $1 billion pharmaceutical company, a sales trigger can alert you to the company's plan to hire. If you are in the telecommunications business, a sales trigger will tell you which company in your database has decided to open a new office. If you are selling relocation services, a sales trigger will alert you of a company's relocation plans.
Salespeople No Longer Have to Hunt for Sales Triggers
A number of innovative technology vendors have pushed the envelope and created information "spiders," which scout the Web for deep knowledge that's served up in an easily digestible format. This helps salespeople time their calls better and arm themselves with better, more targeted information. One of the technology pioneers in the field of automating sales triggers is Umberto Milletti, CEO of
Inside View
. Here is an interview I did with Milletti in 2007.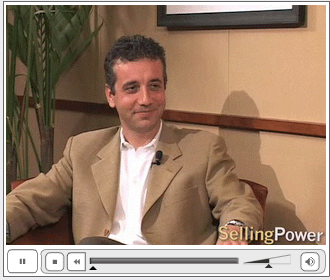 Clicking on the thumbnail above will play the video.
Another technology vendor in the same field is
ZoomInfo
. I've had the opportunity to interview ZoomInfo's VP and general manager, Chip Terry.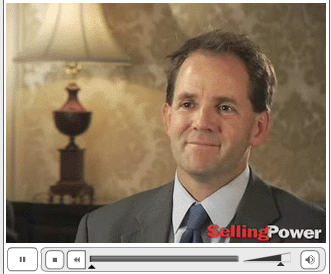 Clicking on the thumbnail above will play the video.
In response to the competitive pressure to innovate,
One Source
has recently introduced a sales-trigger solution called iSell, which has received a lot of media attention. I've spent a few hours test-driving iSell's solution, which hit the market less than a month ago.
My first impression:

The best part:
Very granular sales triggers. I was so intrigued by the large number of trigger choices, I created a map that may serve as a tool for comparing iSell to other solutions on the market. With more menu choices, salespeople will not only be able to find out what they didn't know about present opportunities, but they are likely to find new fields of opportunities that they never thought existed.
What's lacking:
A self-guided tour or video demo of the tool. The initial setup requires a little patience. Granted, I didn't ask for a demo or training, since I wanted to discover the tool without guidance. I could have saved time by not being so stubborn.
My prediction:
We are moving to a place I'd like to call "Real-Time Selling." Buyers will become more and more reluctant to see a salesperson unless that salesperson can meet two conditions: call at the right time and discuss solutions to problems that are in the buyer's real-time field of awareness.
Disclosure notice: InsideView, ZoomInfo and One Source will be exhibiting at the Sales 2.0 Conference in Boston on June 28th where you can test drive their solutions.
Please share your comment on this post.
Email this blog to a friend