At our recent Sales Leadership Conference, best-selling author Neil Rackham told 200 sales leaders in the audience, "The three deadly sins of salespeople in this economy are chasing more opportunities, negotiating rather than selling, and selling price rather than safety." What impels salespeople to commit these sins is anxiety. It's the anxiety of not making their goals that drives many salespeople to half-selling twice as many prospects. Extensive psychological research shows that feelings of anxiety, fear, or worry are the key reasons why prospects put off purchasing decisions and why salespeople don't like making cold calls. In tough economic times, it is natural to worry a little, but excessive worry makes salespeople less productive as they spin their wheels with nonessential sales activities, overprepare for low-priority tasks, and overlook opportunities that would call for a focused and in-depth effort. Feelings of anxiety, fear, or worry don't go away with age, money, higher positions, or more prestige. Muhammad Ali was never afraid of any opponent, yet he experienced anxiety when flying. And even the most confident speakers worry before addressing their audience. While some allow anxious thoughts to float unchecked into their stream of consciousness, others catch these thoughts early and transform them into positive energy.

Buyers experience a stream of anxious thoughts related to their purchases. It is not hard to read a customer's feelings of anxiety. When customers express vague, incomplete, or disjointed ideas, or if they keep repeating the same concern over and over, you can tell that anxious thoughts are interfering with their ability to think clearly. Some prospects discuss trivial issues to avoid discussing a sales proposal. It is not surprising that anxious customers often pass the buck and blame someone else for dragging his or her feet.

To ease a prospect's anxiety, it is helpful to adopt a mind-set of acceptance. It's a good idea to temporarily suspend the preoccupation with advancing the sale and slip into the role of a patient, understanding, and confident friend. Slow your speech down and ask a series of open-ended questions prefaced with such phrases as, "Help me to understand," or "It would be helpful for me to know more about…" Consciously relax your body and communicate in a confident voice. If the prospect is agitated, suggest moving to a calmer environment. If necessary, reschedule the meeting. Use words to lower the prospect's defenses. Say, "I have good news for you," or "My goal is to put your mind at ease," or even, "We'll come back with an idea that will make your CEO very happy."

If customers sound like a broken record, you might say, "I am glad you brought that to my attention. Let me make a note of this." Then, if the customer continues to bring up the same issue, pick up your note and say, "It seems we've discussed this a few times today. What do we need to do to put this issue to rest?" One VP of sales used a quote from the Bible and told a worried prospect, "Do not worry about tomorrow, for tomorrow will worry about itself. Each day has enough trouble of its own."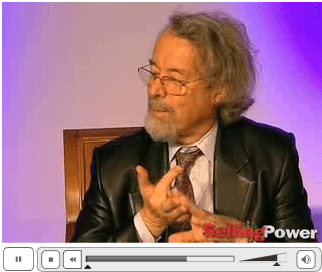 Please share your comment on this post.
Email this blog to a friend